So, the hubby and 14 year old Liam are back at his home in Indiana, cleaning out the garage. (One thing uncovered in the garage: 40 rusted, leaking cans of ETHER from the 1970's!!! YIKES!) Logan and I have been hanging out here in California.
What keeps coming around in my head is the "Coulda, Woulda, Shoulda's"…We haven't seen Andrew's parents but once since we moved to CA 7 years ago. Before that, we always lived within a 1 day drive, so it was more like 2-3 times a year; we'd drive up once or twice, they'd drive down once or twice.
Ellen's advancing Alzheimer's had really kept her from airplane travel even back when we first moved out here. Lack of time and money has made travelling back to see our families hard. And now it's too late. Dick's stroke was caused by a chemotherapy drug he was taking for a form of leukemia. Ellen – she is rarely lucid, the only thing that makes her "light up" is when Dick comes into her room.
So much to say, but I'm done for now. Here are a few pix from when the boys were littler: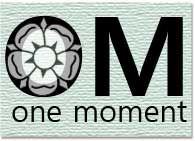 alamodestuff Linda has started a weekly meetup based on taking a moment each week to really notice something as you go about your daily grind life. I need to do this. You may want to too – read more about it here: