Well, my first show of the fall is upon us, Art for Heaven's Sake is this Friday night, Saturday and Sunday! I've been so busy making for it I haven't had much time for fun things like reading magazines…I was happy to find Jane Davila's article on "selling your art at fairs in festivals" in the October/ November issue of Quilting Arts. She'd written me earlier in the summer asking me some questions about what I did in shows – it was quite flattering to find me quoted several times! There's also 3 pix of my booth as well (2 were on the next page)! It's got lots of great advice, if you can get your hands on a copy, do!
Hubby's been working hard on a new booth setup for me. A couple of years ago we bought some used gridwall – and he hates it! It's heavy and hard to set up. Here's a picture of my booth using it. I hate it because it made my booth feel too much like a store, and really de-emphasized the art.
He built me a neat scarf hanger which works great, and we set up the booth a couple of times without a wall type of structure, see the booth here. The booth looks good here – but only because I expand all around it, which was fine for that particular show, but often times you have to stay within a proscribed 10′.
So now, he took the idea of the scarf hanger and combined it with 2 x 2's, strips of plywood, and some nice bits of cherry to make something completely different:
You also get a tour of my pool too! I'll have better pix when it's all filled with stuff at the show, but I'd love to show you how my genius hubby put this together!
Seriously, if I had to pay someone to make this…well there wouldn't be much profit from the show this weekend. I'm so excited to try this out, I'm thinking that it will be minimal, beautiful and FUNCTIONAL!
My moment? Holy Moley, this is my fourth Art for Heaven's Sake show! I can still remember just starting my journey, and here I am, being quoted in a magazine, by an artist I totally admire and respect, with tips for folks just starting out. how did this happen? 😉 (Lots of work, and lots of support, from that awesome hubby, friends here in town, and you awesome internet peeps!)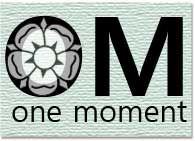 alamodestuff Linda has started a weekly meetup based on taking a moment each week to really notice something as you go about your daily grind life. I need to do this. You may want to too – read more about it here: