Last weekend I took Liam, my 13 year old to audition for a regional orchestra, the Claremont Young Musician's Orchestra (CYMO) not once…but twice. This is a group (actually 2 groups with upper ages of 17 and 20) that meets once a week about 45 minutes from Redlands. They play several concerts each year, occasionally at Disney Hall in LA.
He's been playing 'cello for 8 years, and he started playing the trombone 4 years ago. Last year he got really motivated by auditioning for various honor groups. Although he didn't make the 1st couple of groups, he ended up making 1st chair trombone in the All County Band and 1st chair 'cello in All County Orchestra. He was HOOKED!
We got 2 letters the other day, although he didn't make the 'cello section in the CYMO, he DID make it with Trombone! My moment: I'm going to start having to make the long drives that MY mom made for years when I was in a regional orchestra and wind ensemble from 8-12th grade. Liam is truly finding his way as a musician…he's a chip off both his parent's blocks! I am so hoping that he starts finding friends that have similar interests to him in this group, he doesn't really fit in with his classmates here, he's entirely too serious and has such different interests than them, and this has always been so. I know I found a home in these type of groups when I was young.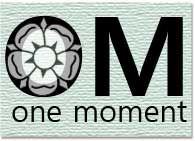 alamodestuff Linda has started a weekly meetup based on taking a moment each week to really notice something as you go about your daily grind life. I need to do this. You may want to too – read more about it here: